Bank of Canada Raises Rates… again
The Bank of Canada raised its overnight interest rates on June 7, 2023 by 0.25%. While we are sure that many Canadians were hoping rate hikes were a thing of the past, here we are again.
Let's examine why, but keep in mind that we are examining core consumer prices which strip out more volatile items like gasoline.
2020 had very low inflation
2021 had high inflation
2022 had very high inflation.
The BoC rate hikes started to be felt in the economy by both real terms of more expensive debt but also the psychological factor of increasing rates.
From July 2022 to March 2023 we had fairly moderate and moderating inflation data.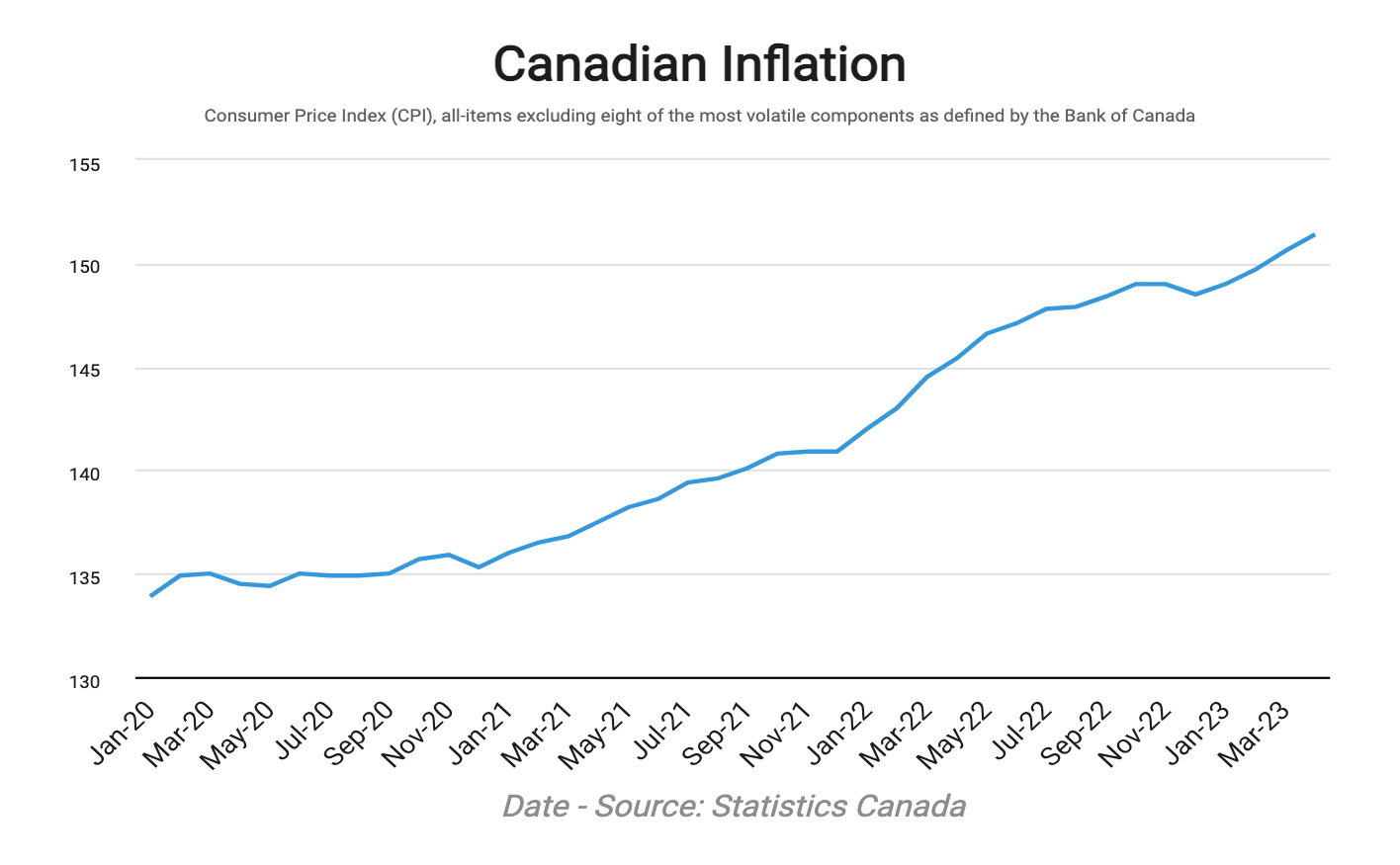 April and March have continued the upwards trend of higher inflation.
But should we worry? When the the Bank of Canada stop increasing interest rates?
Looking at the chart in more recent terms from July 2022, we can see that there was cooling inflation.
In fact inflation went from 4.93% in 2022 to 2.84% when annualized between July 2022 and March 2023.
Factoring in the most recent April data which continued higher and we get 3.25% annualized.
Bottom line
The rate of inflation growth is increasing again.
Originally we were hoping that with the Bank of Canada stating that it was going to take a wait and see approach that data would continue to be soft. That hasn't happened.
There are several reasons for this:
Why inflation is rising
People are finding ways to continue to spend. Credit card debt is fueling this as it rises. People have the option to refinance their mortgages out for longer amortization periods. People need to replace products.
why inflation should slow
Mortgages are typically household's biggest expense. Look at a family who's mortgage payment goes up by $1,000 per month, just had an increase of $12k per year, or at a 35% tax rate, this would be about an $18k per year pay decrease.
As time goes on, this will continue to build as more households refinance at higher interest rates.
Further, cash savings will get drawn down and credit card debt will likely continue to rise.
We believe that on balance, the Bank of Canada has already done enough rate increases and they are continuing to work through the economy.
Rates have not been this high since 2007. Canadian household debt is much higher now. It takes time to reset mortgage payments. The higher returns on deposits will not offset the higher cost of debt generally.
We believe that it is only a matter of time before the inflation rate comes down. This will eventually be a positive for consumers and risk assets. Of course there will be volatility between now and then however we are optimistic when looking forward.
Until next time,
Trevor
___________________________________________________
Trevor Dale, CFA
CEO, TK Dale Wealth Inc.
Portfolio Manager, TK Dale Wealth Management Inc.
Life Insurance Agent, TK Dale Wealth Insurance Inc.
Mortgage Broker, TK Dale Wealth Mortgages Inc. Lic. #13359
#7-17075 Leslie St.,  Newmarket, ON L3Y 8E1
*Disclaimer: Please note that this communication contains forward looking information. We do not guarantee or warrant these statements and cannot guarantee that the outcomes will occur. This is not individual advice and you should seek the help of a licensed professional. This is not intended to solicit residents outside of Ontario, Canada. We do not provide tax or legal advice. Securities mentioned in this communication are not recommendations. We do not endorse nor recommend any securities mentioned. This is not financial advice. We recommend seeking the help of a licensed professional prior to making investment and financial decisions.